Normally the day after Thanksgiving we decorate our tree.....this year was alittle different. After having ALL the needles fall off our tree before Christmas last year, we decided this year to wait a bit to get the tree. With having to wait I didn't really get into the feeling of Christmas. Sure I've been shopping with my best bud, and I've wrapped a few gifts here & there, but until the tree went up, it just wasn't happening for me. BUT NOW~ I'm Christmas Crazy! Come to the Engle house & you will hear Christmas music playing 24 hours a day, we'll be stocked with peppermint Hot Cocoa & Candy Canes galore!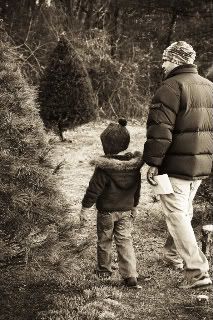 We had a great time yesterday picking out the perfect tree. We let Tate do the honors~ he ended up choosing a nice shaped tree, it is not the one I would have chose, but that is the fun in letting your kiddos pick. We decorated the tree tonight, it was alittle stressful.....simply because I had to hold back the urge to have everything placed in the "correct" spot. Every year I have to re-arrange the tree several times till it is all balanced?!?! (Just a hang up that I have) Well this year I made a promise to myself that I would make sure the season was about the kids & making it extra special for them.....soooooo Tate was in charge of decorating the tree. I'll have to snap a final pic of the finished job, but I'll just let you know that the entire left side of the tree is covered in plastic ice sickles & the rest of the tree has at least two decorations per branch! To be honest with you, it looks much better than having everything in place ~it brings a smile to my face every time i look at it.
Just a note of advice.....don't break tradition to save alittle time~ and if you don't have a tradition, then start one by using the Jones' Christmas Tree Farm in Ellijay out Chatsworth Hwy. After using a different Tree farm this year we really missed the Jones'. They are very family oriented and it seems they truly enjoy what they do.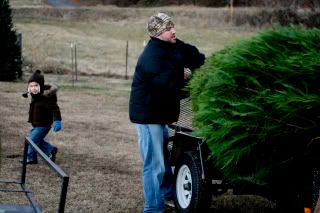 A few Traditions of ours:
PJ's ~ We always open one gift on Christmas Eve once we return home from our yearly trip to Mom's. This one gift contains our Christmas PJ's. So as we all crawl out of bed on Christmas morning we are decked from head to toe in Christmas gear.....ready for PICTURES ;)
Christmas Breakfast ~ I always make a HUGE breakfast...last year we feasted on Huge, Fluffy French toast with other yummy sides :) Not sure what we'll do this year but it'll be tasty, as we sit amongst wrapping paper & toys, toys, and more toys!
Special Decor ~ Every year we make sure to let the kids pick out their favorite decorations for the Christmas Tree. Which always seems to reflect what Tate has loved for that year. Last year he picked out a Thomas Train, the year before he chose a green airplane.
This year he chose this.....
And Lyla chose this.......which she calls "dee" and then makes the sound of a deer (which is something I can't even do)